Barbie's 'Dolls of the World' Spark Debate Over Cultural Stereotypes
By: Kacy Capobres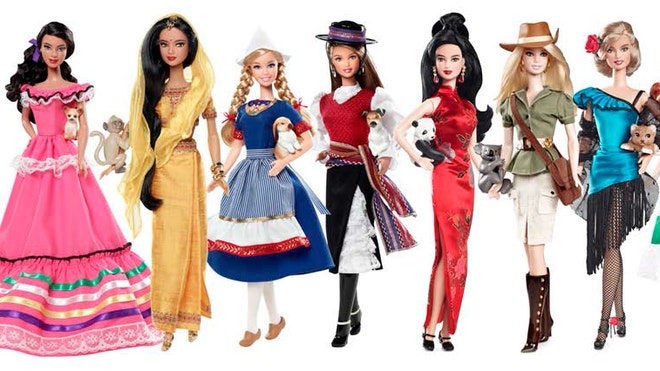 One is wearing a Chilean huaso, a knee-length black skirt with a ruffled blouse and red vest. Another is decked out in full Argentinean tango attire, with a ruffled blue dress and black lace shawl. A third has long black hair and wears a long pink dress filled with lace. And she's holding a Chihuahua.
The dolls are part of the legendary Barbie line and they are being relaunched as part of an effort by Mattel, the makers of Barbie, to appeal to a new, more diverse generation of doll enthusiasts.
The "Dolls of the World Collection" – initially launched 30 years ago but now making a comeback – is trying to represent a variety of countries to the Barbie consumer, including many from Latin America.
"Girls enjoy exploring the world and learning about different cultures through play," Sara Rosales, a Mattel spokeswoman, told Fox News Latino. "The Barbie brand understands the significance of introducing new cultures to girls in a relatable way."
According to Rosales, the company conducted research to create dolls "that celebrates both the country's heritage and culture."
"The Dolls of the World collection features the native fashions, while celebrating the cultures and diversity represented within each country in a way that will appeal to Barbie fans of all ages."
But the campaign has provoked backlash among some advocates for promoting tired stereotypes.
"It would be nice to see some contemporary images from these countries," Felix Sanchez, chairman and co-founder of the National Hispanic Foundation for the Arts, told Fox News Latino. "These images seem very dated and seem to have been created for a different time."
With the new collection showcasing Barbies from countries – including Spain, Chile, Argentina, and Brazil – the Mexico doll, in particular, has caused a bit of a stir.
On the Barbie collector website, the doll is described as having the facial sculpt of a "new Hispanic" and a skin tone that is "LA tan."
Dressed in a pink ruffled dress for a "fabulous" fiesta, the Mexico Barbie is accompanied by her "Chihuahua friend" and a bright-pink passport.
Journalist Laura Martínez told Fox News Latino she didn't see the inherent stereotypes in the doll as offensives, necessarily.
Girls can "play with your Barbie Mexicana," Martinez wrote out on her website, but "don't even think of calling her indocumentada."